Why Curb Appeal is Important
Adding Curb Appeal not only adds value to your home, but makes your house feel inviting and in harmony with the landscape. What does your house say about you?  Are you trying to make a statement or just blend in with your the rest of neighborhood? Everyone takes pride in their home and wants to make a good impression. What is it that makes your property stand out from the rest?
Asses Your Surroundings
When considering a landscape project, keep it simple. To boost your curb appeal, start with the basics. Think about the size and shape of your house. Next, consider how your home relates to its environment. What is the proximity to the street and neighboring homes? What other goals do you have for your home. What design elements need to be sited? – front walks, steps, plant beds, trees, shrubs, etc.
Sometimes adding simple small cost touches can make a big impact. Plan for things you can do today and set aside things you can to do tomorrow. For example, defining your borders with clean edges gives your property a fresh look and makes a big impact. Also, prune overgrown trees and shrubs and assess what will stay and what will go.
An expert landscape professional knows how to work within your parameters. By using existing site features and integrating them into the design, the outcome will look effortless and natural.
The User Experience
A home with great curb appeal offers an exceptional user experience. Take a moment to think about how your landscape greets people. Generally there are three main user experiences. First there is the driveway. Most people drive to get to your house. Is there enough room for parking and maneuvering? Is the surface in need of repair? Consider a paving upgrade with proper drainage. Perhaps an attractive border with shrubs and flowers or a stone wall to separate parking from the rest of you landscape would enhance this area.
Next is the pedestrian experience – the pathway from the driveway leading to your entrance(s). Are the pathways to your doorway(s) obvious? A comfortable walkway should be at least 4 ft.wide. If there are steps involved, try to keep the grade minimal. Plan to include interesting details along the walkway, such as plants, flowers and small trees/shrubs.
Finally consider the entryway to your home. Evaluate the site. For example, are there a lot of stairs? Are they wide enough? If there is space, maybe a wider landing and wider steps would make your entryway more welcoming.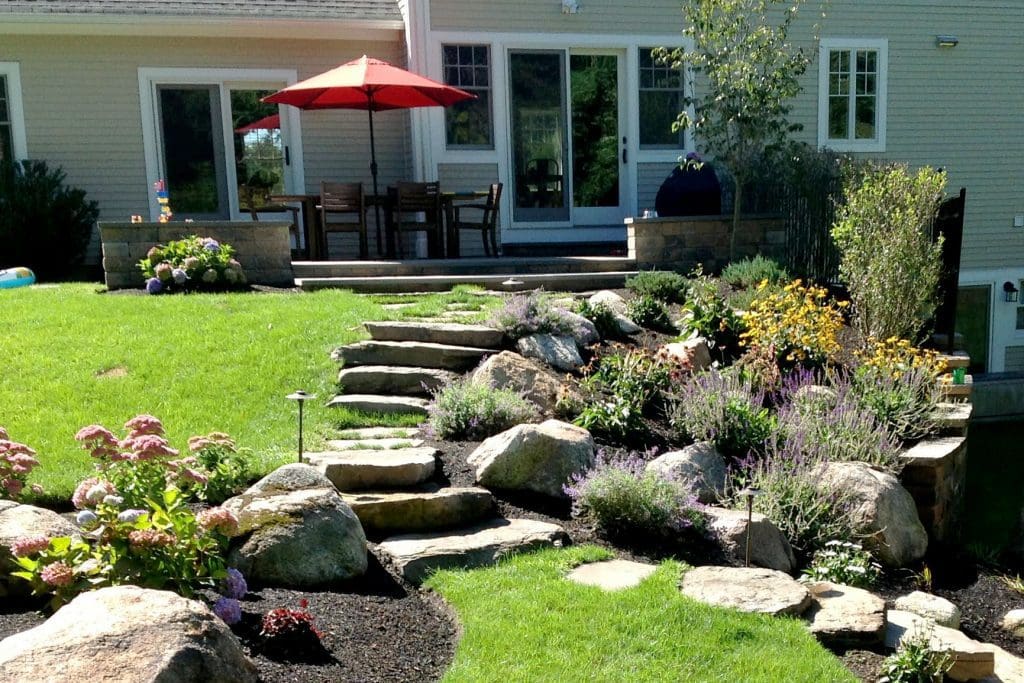 Direct Relationship Between Value and Landscape Design
With property values steadily rising, it is not surprising that the top trend in landscape design is boosting curb appeal.  Turf Magazine conducted a study that shows a direct correlation between home's landscape and it's value. Design sophistication was the highest ranked factor that added to the perceived value of homes. Whether you are thinking of selling your home or simply increasing its value, an investment in landscape improvements increase in value over time. As plants and trees mature over time, the overall aesthetics – curb appeal – increases the value of your home.
If you would like help boosting your curb appeal and developing a plan that works for you, contact
Cole
. Our experts are happy to work with you to create the perfect outdoor space for your family and friends to enjoy.