Why not get out and grow a garden to help ease your mind, get exercise and learn something new?
For almost 30 years Cole Landscaping has been making the North Shore a beautiful place, one season at a time. We want to share a few ideas for simple projects that you can do with your family in your own backyard to ease the stress of these uncertain times.
Planting Pansies
With our unpredictable New England weather, pansies are your best bet  for adding a splash of springtime color to your landscape. What better way is there to brighten up the day than to plant a bright patch of flowers in the ground or add colorful containers near your doorstep?
With social distancing as the new norm, gardening is something that you can do in the safety of your own backyard. Additionally, it's great way to spend time with your kids. Pansies are one of the easiest flowers to care for this time of year because they can withstand colder temperatures. Since they do well in containers as well as planted in beds, they are quite versatile. From their bright yellows to their deep purples, pansies are known for their vibrant hues and will brighten up any spot. They bring new life to your garden after a long, dreary winter. Learn more about planting pansies.
Stay Positive
Spring is the time of year that our customers need us most and we're committed to servicing your needs and keeping everyone safe. While we'll handle the tough chores, we're offering you some pointers to get out and grow your own garden. During these are uncertain times it's important to stay positive and maintain a healthy outlook. What could be more nurturing than growing plants from seed?
Gardening Tips
If you have never planted a garden, now is the perfect time to start. Growing a garden is an engaging activity for children and it's very rewarding on many different levels. First of all, everyone benefits from fresh air and exercise. Secondly, you would be enhancing your own backyard. Although gardening involves using some muscles that you may not have felt before, working with the land is a great stress relief. You'll experience the benefits when you harvest the fruits, vegetables and flowers that you have grown. The time you spend with your family working together is priceless.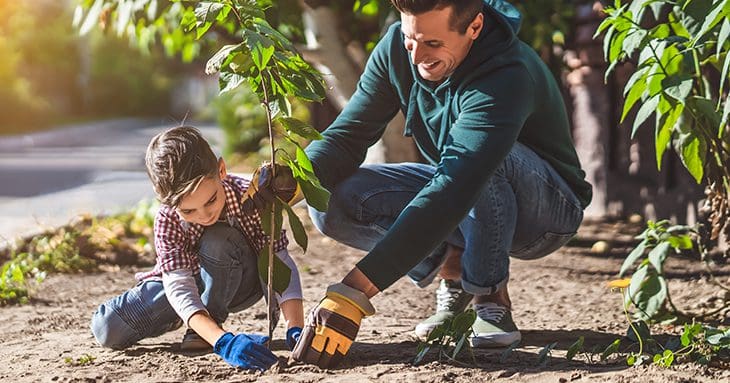 Do Some Research
Decide what kind of garden you want. Choose vegetables that your family enjoys and flowers that will attract pollinators. Perhaps you would like to plant a tree to commemorate Arbor Day. Flowering fruit trees look beautiful in the spring and will reward you with fruit come fall. Get everyone involved in the research and make it a family affair. Consider plants that attract butterflies and honeybees to help your garden grow. Learn more about attracting pollinators.
LOCATION
Whether planting in the ground, raised beds or containers you have to ensure proper conditions are met. If you plan correctly now, you will reap the rewards later. Location is important. Make sure you choose a sunny location that is easy to keep an eye on. If your garden is out of sight, it can easily become "out of mind." Make sure you are able to easily water your garden and that your hose reaches all areas.
SOIL PREP
Start with soil that is rich in nutrients and drains well. Ideally you should have your soil tested to check pH level; if you soil is acidic you will need to add limestone. Adding compost or manure will improve fertility, texture, and drainage, which will then create healthy, productive soil. If you plan on using containers for your garden, you may want to use a moisture management amendment. Garden centers offer a variety of products to complement your existing soil. If you would like help determining the best mix for your garden, one of our plant care experts would be happy to have a consultation with you. Learn more about garden soil.
WHAT TO GROW
Do some homework to choose the varieties of plants that will do well on your backyard. In New England our growing season is typically 4 months long. Start with something easy.
Growing Lettuce
If you are eager to sow some seeds outside right now, the easiest cool weather crop to grow is lettuce. Once your bed or container is ready, simply sprinkle the lettuce seeds onto your soil, approximately 10 seeds per square foot, and cover with ¼" of soil. Water and keep soil moist; you'll see the seeds germinate in 7-10 days. If your plants seem crowded, you can thin them out, leaving about 4″ between each seedling. When you have a fair amount of leaves on your plant (7-10) you can begin to harvest. But don't pull the whole plant – you can pick a few leaves from each plant as you need them. And you will be able to harvest lettuce until the plant starts to bolt (done producing.) Here are some more tips for growing lettuce.
Starting Seeds Indoors
While you can grow lettuce and vegetables like broccoli and spinach and peas outdoors now, it's too early to plant vegetables like tomatoes, cucumbers, zucchini, etc.These can't go into the ground until late May/early June. That doesn't mean that you can't get a jump start on your garden. Try starting your own seeds indoors. Using eggshells and cartons to house your seedlings is an eco-friendly way to start your garden. Growing plants from seed proves to be a great educational experience for children, too. Encourage them to keep a garden journal to track the progress of seed germination. The journal can be as simple as a notebook with sketches or as elaborate as a 3-ring binder with pouches and sleeves to hold photos and seed packets. Learn more about keeping a garden journal.
Stay Healthy and Safe
We recognize that these are uncertain times. At Cole, one thing we know is that for our clients and community being outdoors is a force for good. We are excited about the upcoming season and we will continue to provide you with exceptional service and design.
If you would like help with your garden, please
contact us.