The Goal: Update a Tired, Old Patio
Our Manchester-By-The Sea client was in desperate need of a patio makeover. Their original walkway and patio consisted of rough cobble. The area was showing its age and it was time for an upgrade. For instance, the walking surface was very uneven. Some areas of the masonry were deteriorating. Since they were planning an addition of a new three season room, it was obvious that the old patio had to go.
Prepping for the Patio Makeover
First we had to remove all of the old cobble and stone walls to make room for the addition.
The Plan
Our client wanted a fresh new look that would complement their new addition. From a design standpoint, we wanted the patio makeover to seamlessly blend in with its surroundings. Therefore, we used natural stone for all surfaces. First we laid bluestone for the patio and walkways – the back patio includes a reclaimed granite inlay. The natural colors in the bluestone reflect hues of the sky and the earth. Then we used granite for the steps, walls and caps. The durability of granite will stand the test of time.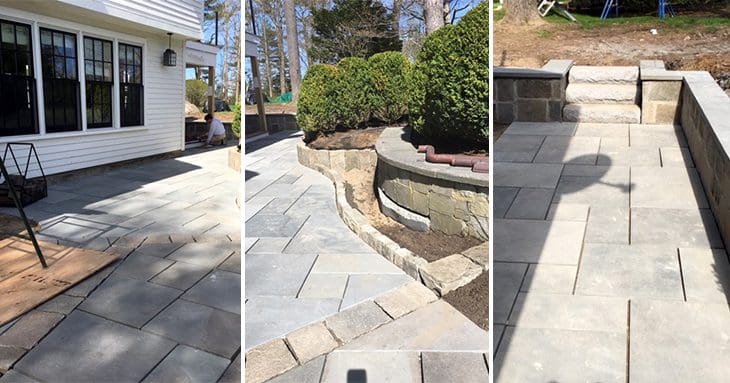 The Execution
Once the new hardscape was set in place, it was time get to work on the softscape to complete our project. In addition to installing new plants, we relocated a Japanese stewartia from the corner of the house to the corner of the driveway. This proved to be quite a task, but our skilled crew got it done in no time at all. Our plantings include: white shrub roses, Russian sage, butterfly bushes, endless summer hydrangeas, overdam grasses, deutzia, geranium, dianthus and ground cover sedum.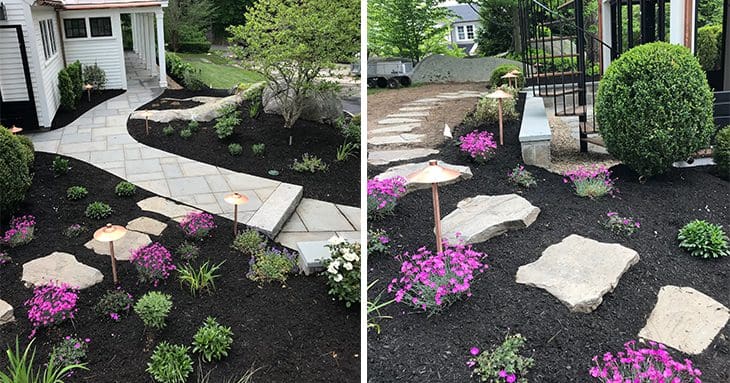 If you have an area of you landscape that could use a little TLC and you don't know where to begin, Cole design experts can lead you in the right direction. Contact us today to schedule your free consultation.