A "Beachy" Scheme for our Gloucester Client
Our Gloucester clients wanted a new "Beachy" planting scheme that would also ensure privacy for their backyard. In addition, they wanted to delineate two front plant beds as a separation from the driveway.
Our Approach
Instead of using traditional cobble we decided to do something a little different.  Therefore we installed a reclaimed Gloucester chunk stone for a classy old estate look.  The chunk stone planter edges complement the house as well as define the beds. The chunk stone edges also tie together nicely with the existing granite at the entry of the driveway.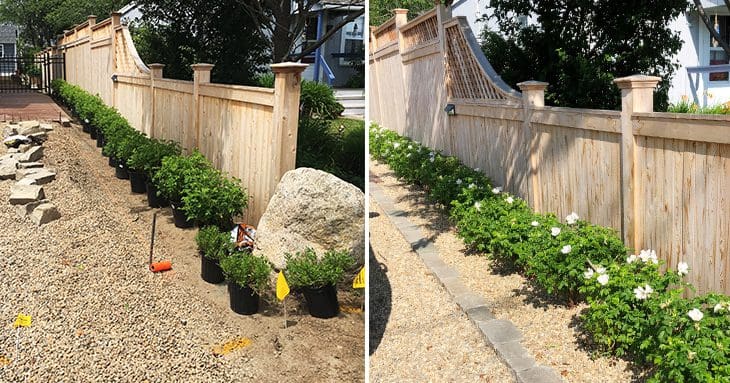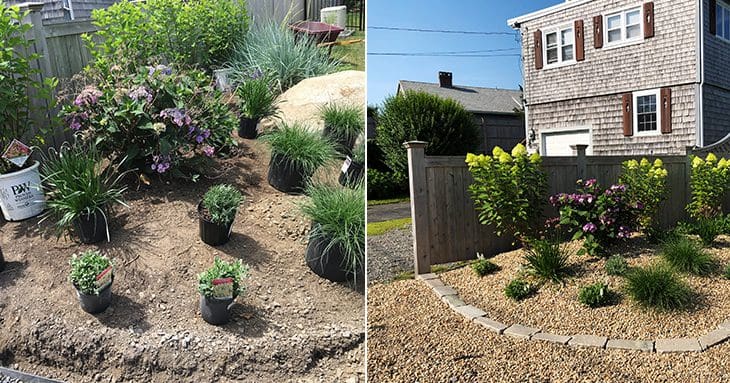 The Plantings
Working with a few of their existing specimen plants such as Butterfly Bush and Endless Summer Blue Hydrangea, we added a stellar plant palate fit for the beach. We chose Lime Light Hydrangeas, classic white Beach Roses, Sedum, Lavender, Iberis, Dianthus, Alliums, and Morning Light Ornamental Grass and Fountain Grass.  We also installed Baby Blue Eyes Blue Spruce for privacy and a specimen Japanese Stewartia tree for its showy summer flowers and intense fall color.  For the final touch, we added a stone mulch to keep in context with the beach theme as well as  to prevent curious pups from digging in the garden!
If you need a fresh new look for your landscape and you don't know where to begin, Cole design experts will be happy to come up with a plan that works for you. Contact us today to schedule your free consultation.